Alright, so we're a couple of days into the official NBA Offseason and boy oh boy has there been some news… We have a new superstar duo in Brooklyn of all places with Durant and Kyrie. Jimmy Butler decided he doesn't care about winning and took his talents to South Beach. We have Point Guards on the move everywhere it seems with Kemba heading to Boston, D'Angelo Russell to Golden State (weird), and Terry Rozier to… wait, why am I talking about Terry Rozier??? Never mind forget that last part. Point being, guys are on the move and guys are getting PAID!
From a Rockets perspective though, its actually been pretty quite. The only "splash" type of move that Houston supposedly had a chance at was Jimmy Butler. The interest has been there for years, and it was reported that Butler was going to meet with the Rockets within the first couple of days into free agency. Unfortunately, that meeting never happened. But it's not like Houston lost anything, so it wasn't really that big of a deal.
While there are still a few options for Daryl Morey to look at as he tries to improve this already contending team into an actual Championship team, so far he's only re-signed a few role players from last year. The Son of Houston Gerald Green was signed to another vet minimum contract and Danuel House was (somewhat surprisingly) brought back at just 11mil over 3 years. Because of their financial situation, it was thought that Morey would have to make some difficult decisions on which of these role players would be brought back. After House signed for slightly more than the minimum, I assumed that was it for Austin Rivers in Houston. Looking at some of the contracts that backup guards were getting, it just wasn't realistic to think Rivers would come back for the minimum. I mean Seth Curry, who I really like as a player, got 32mil over 4 years from Dallas. Elfrid Payton got 16mil over 2 years from NY. Cory Joseph got over 30mil from Sacramento… Cory freakin' Joseph, who apparently played for an NBA team last year, got over 30mil. Thats crazy. Austin Rivers is better than all of those guys in my opinion.
Then this news dropped.
Not only did he re-sign, but he re-signed for the minimum! Which allows Houston to keep what they have left of the Non-Taxpayer MLE (around 5-6mil) to help fill other needs on the roster. This is great news! But confusing at first… Like, why didn't he get offered more by some team with cap space and a need for a vet guard?
Then Austin Rivers drops this on his Instagram.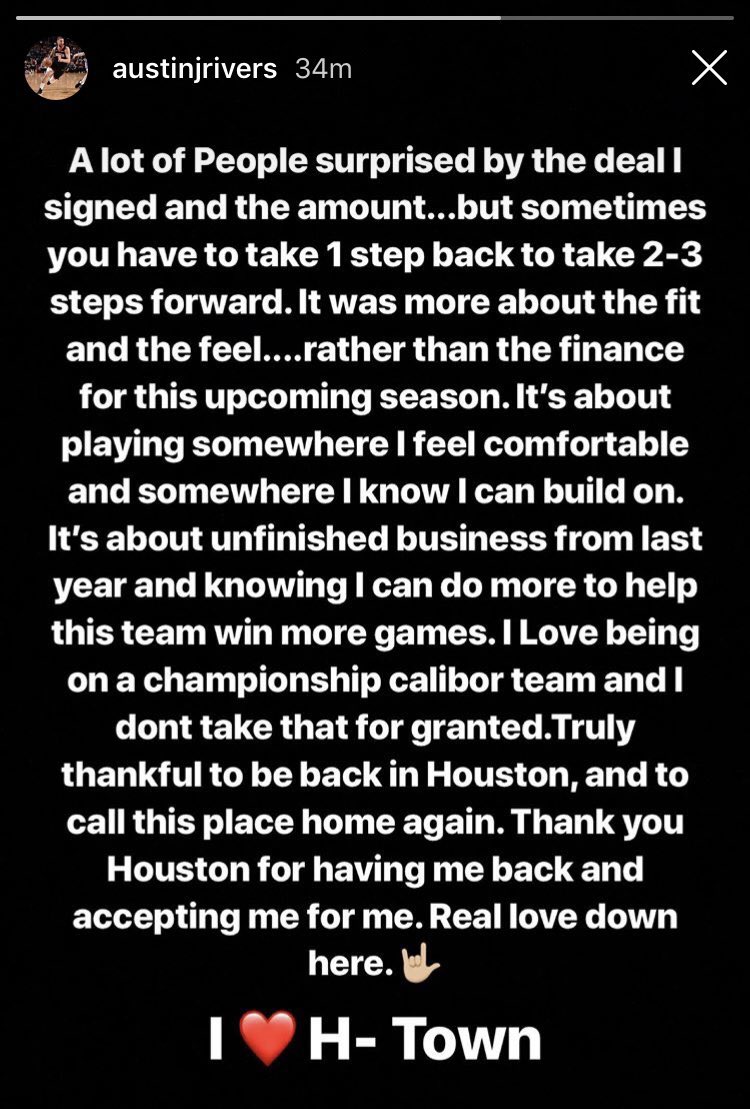 I mean, how awesome is that!? In a league where 99.9% of the players simply play for the highest bidder (which I am totally okay with and would do the same in their situation), this guy sacrifices more money to be on a team that can win. I don't have the facts, but I would be SHOCKED if he wasn't offered somewhere between 6 and 8 mil per year by another team. Now, it is just a 2 year deal with a player option for the second. So its likely that he thinks with another solid year in Houston he'll be able to make this money up with a longer, more lucrative contract next offseason. But nonetheless, its really cool to see a guy make this kind of sacrifice to return to a locker room that is constantly made out to be toxic. Austin is a smart guy, he grew up in NBA locker rooms coached by his father, if this was a "toxic" locker room, I don't think we would be seeing players making sacrifices to stay apart of it.
So to answer the question posed in the title of this blog… Is Austin Rivers my favorite Rocket now? You know, thats tough to answer. As I get older it becomes more and more difficult for me to have a "favorite player." That title pretty much just goes to whoever is helping the Rockets win the most. Currently, and for the foreseeable future, that guy is James Harden. As long as he's leading this team to the playoffs every year, he's my guy. But with this decision, Austin became a player that I will always root for, regardless of how he's playing or even who he plays with in the future (hopefully always Houston). I might even have to go hit up the NBA store for a #25 throwback jersey. Im not a big jersey guy, but out of the respect Rivers earned from me this week, I think I can find a nice place on my wall for one.